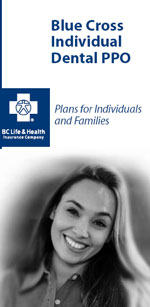 Blue Cross also offers affordable dental plans because we know that regular dental care is important to your health.

Three of the four choices are Blue Cross Dental SelectHMOSM plans. These plans require you to use participating dentists and vary primarily in the amount they pay for restorative services. In all three plans, you pay only $5 per office visit for exams, cleanings and x-rays. There are no annual deductibles, no annual maximums and no waiting periods for most services.

The PPO Dental Plan (from BC Life & Health Insurance Company) allows you to see any dentist you choose. However, using a Blue Cross PPO participating dentist saves you money because there's no charge for preventive and diagnostic services and you're assured that the dentist will charge no more than the Blue Cross-negotiated fees. Note that the PPO plan does not cover orthodontia.

Who's Eligible for Blue Cross Dental Plans

You and your dependents must be California residents. If you enroll in one of the Blue Cross Dental SelectHMO plans, you and your dependents must select the same participating dental office. Dental providers and locations are different for the Dental PPO and Dental SelectHMO. Eligible dependents include:
Your lawful spouse


Any unmarried child under age 19 of you or your enrolled spouse


Any unmarried child, age 19 to 23, of you or your enrolled spouse, who qualifies as a dependent for federal income tax purposes


A child of you or your enrolled spouse, who continues to be both incapable of self- support, due to continuing mental retardation or physical handicap, and who is at least one-half dependent on you or your spouse for support.